Schedule a FREE Onsite Analysis of The Air Quality Needs of Your Business!
Industrial Vacuum Systems

We proudly represent VAC-U-MAX industrial vacuum systems. If you need an industrial vacuum system in Nebraska, this is the one. VAC-U-MAX is a premier manufacturer of industrial vacuum cleaners for manufacturing and municipal facilities, government installations and environmental sites. VAC-U-MAX specializes in the design and manufacture of pneumatic systems and support equipment for the conveying, weighing, and batching of dry materials.
VAC-U-MAX heavy-duty industrial vacuums improve your facility's cleanliness, improve working conditions and safety for your employees, reduce down-time of valuable production equipment, enhance your quality control efforts and recycle material previously considered as waste. VAC-U-MAX industrial vacuums are available in both portable and central systems.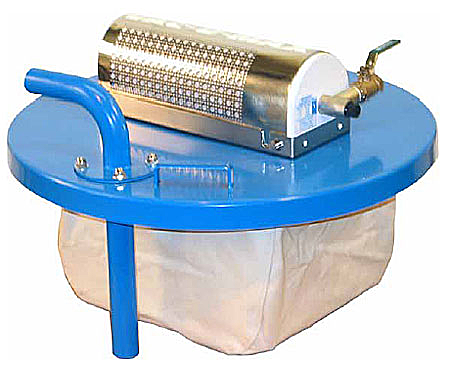 Compressed-Air Powered Vacuums, General Purpose
VAC-U-MAX invented the world's first vacuum cleaner for operation on compressed air in 1954. The variable orifice venturi allows operation with the lowest air consumption on the market, yet also allows you to double the vacuum level if you have more compressed air. VAC-U-MAX air vacuums will work longer than other vacuums because there are no moving parts, utilize a heavy-duty filter and cage with protective supports and low noise operation.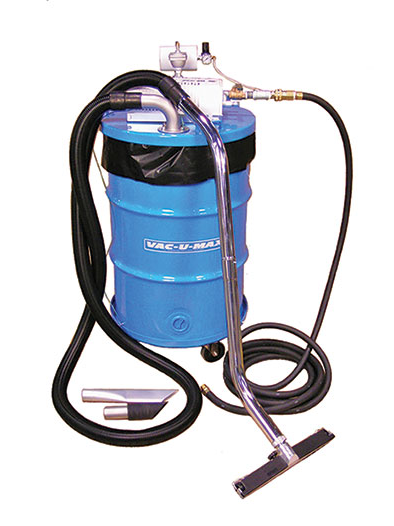 Compressed-Air Powered Vacuums, Specialty Applications
These VAC-U-MAX vacuums are engineered for specific applications that address issues of chemical compatibility, flammability, combustibility, worker exposure to collected dusts and the unique needs of the metalworking industry. These vacuums are sold as a "package" with a collection container, a drum dolly or cart, and an engineered hose and tool kit.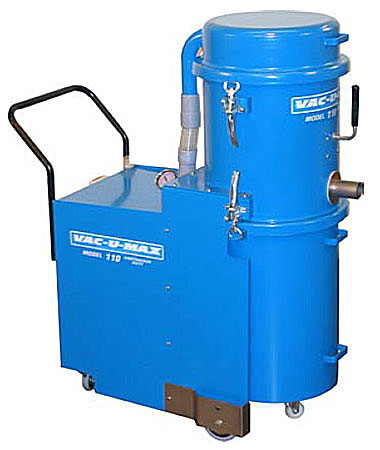 Continuous Duty Electric Vacuums
VAC-U-MAX industrial vacuums are designed to reduce operator exposure to fine powders and to improve material handling of dusty debris. The new continuous-duty industrial vacuums are equipped with a continuous bagging system that eliminates dumping of a drum or rigid collection container. The closed bags prevent fugitive dust clouds and avoid a potential cause of back injuries. The unique filter cleaning system eliminates the need for compressed air and solenoid controls, allowing the filters to collect the finest powders anywhere in the plant. The vacuums are also equipped with a 50 sq. ft. PTFE-coated primary filter, a standard HEPA secondary filter and easy-rolling 6"-diameter wheels. The new family of VAC-U-MAX vacuums is available in 2.5HP, 5HP and 8.5HP models. The vacuums are suitable for unclassified and Class II, Div 2 rated environments.
Central Vacuum Cleaning Systems
VAC-U-MAX is a worldwide leader of today's most innovative industrial vacuum cleaning equipment and central vacuum cleaning equipment. Our industrial vacuums are used in all applications from general plant clean up to high volume recovery of material. At VAC-U-MAX, we've redefined the vacuum cleaning industry by offering the latest technology in filtration and material handling. We're material handling specialists! We provide choices of collection containers and disposal techniques to match your material handling requirements. Some VAC-U-MAX systems can eliminate material handling completely.